There are many definitions of service design, but here's our favorite:
Service design helps to innovate (create new) or improve (existing) services to make them more useful, usable, desirable for clients and efficient as well as effective for organizations. – Stefan Moritz
Simply put, service design is a human-centered design approach that places equal value on the customer experience and the business process. Service Design is rooted in Design Thinking and brings a creative, human-centered process to service improvement and new service development.
Why is service design important?
Many organizations have simply lost sight of their customers' experience and how they receive services and interact with their company. What makes service design so important is its ability to help organizations refocus and see their service delivery from the perspective of their customers.
By deeply understanding the experiences of the people who engage with their services, organizations are better able to make decisions about service innovations that improve both customer satisfaction and business outcomes.
The principles of service design
The book This Is Service Design Doing is based on the work of a total of 96 co-authors and is considered an authority on service design in the global service design community. According to the authors, these are the key aspects that define service design and service design thinking:
Human-centered:

When designing a service, the experiences of all people affected by the service (users, customers, employees) must be taken into account. This is the only way to understand exactly how people perceive a service and how they use it.



Collaborative:

We actively involve all relevant stakeholders in the service design process. We design the services together with our client's customers, users and employees.



Iterative:

Service development takes time. We do not just create a lofty concept and bring it to market. We start with small experiments and prototypes to learn from mistakes, improve the process and iterate toward implementation.

Sequential:

A service consists of a sequence of interconnected actions. We visualize this sequence using customer or user journey maps. These maps give us the opportunity to zoom in on each step of the journey and understand how it works, what goes wrong, and how it can be improved.

Holistic:

Service design is not about patching individual problems, but about designing the entirety of a service. And it's not just about satisfying your customers' needs. It's about aligning those needs with your company's goals and internal processes.
Components of service design
Designing UX requires designing multiple components: visual elements, functions and commands, text, information architecture, and more. Service design follows the same basic pattern. There are four key components of service design, each of which should be properly designed and aligned with the others:
People
People are central to the successful design of any service. In the case of service design, the people component includes everyone who uses the service or participates in the creation and delivery of the service in your organization, as well as people who are indirectly affected by the service:
Users and customers

Employees

Partners

People indirectly affected
Products
This component refers to the physical or digital artifacts (including products) needed to successfully deliver the service: 
Physical space: storefront, checkout counter, conference room

Digital environment through which the service is delivered (e.g. websites, blogs, social media) 

Objects and collateral (digital files, physical products) 
Touchpoints
Touchpoints can be defined as any way consumers can interact with a company, whether it's person-to-person, through a website, app, or other form of communication. When consumers come into contact with these touchpoints, they have the opportunity to compare their previous perceptions of the company and form an opinion.
Which touchpoints are critical to your customers and how can you improve their experience at which touchpoint? Some examples of touchpoints:
Digital: website, blog, social media, chatbot, …

Physical: shop, showroom, meeting room
Processes
These are any workflows, procedures, or rituals performed by either the employee or the user during a service. What processes does your customer go through when using your service? And what internal processes, procedures and workflows are necessary to deliver that perfect experience to your customers?
Front stage, backstage and behind the scenes
A service consists of a plethora of components, many of which remain unknown to the customer. Imagine a play: you only see what happens in front of the curtain, but there is also a lot happening behind that curtain. Without the backstage, the play would not look the way it should.
For the same reason, when we design services, we divide the components into front stage, backstage, and behind the scenes.
The front stage is what the audience can see and where the action takes place. The backstage consists of processes, tools, and people that are necessary for the front stage to run smoothly. The backstage should be invisible to customers, but often is not—especially when things are not going the way they should. Budgets, policies, procedures, etc. are what goes on behind the scenes.
A company with a solid service design aligns the front stage, backstage and behind-the-scenes because when problems occur behind the scenes, they usually affect the front stage and, ultimately, customer satisfaction.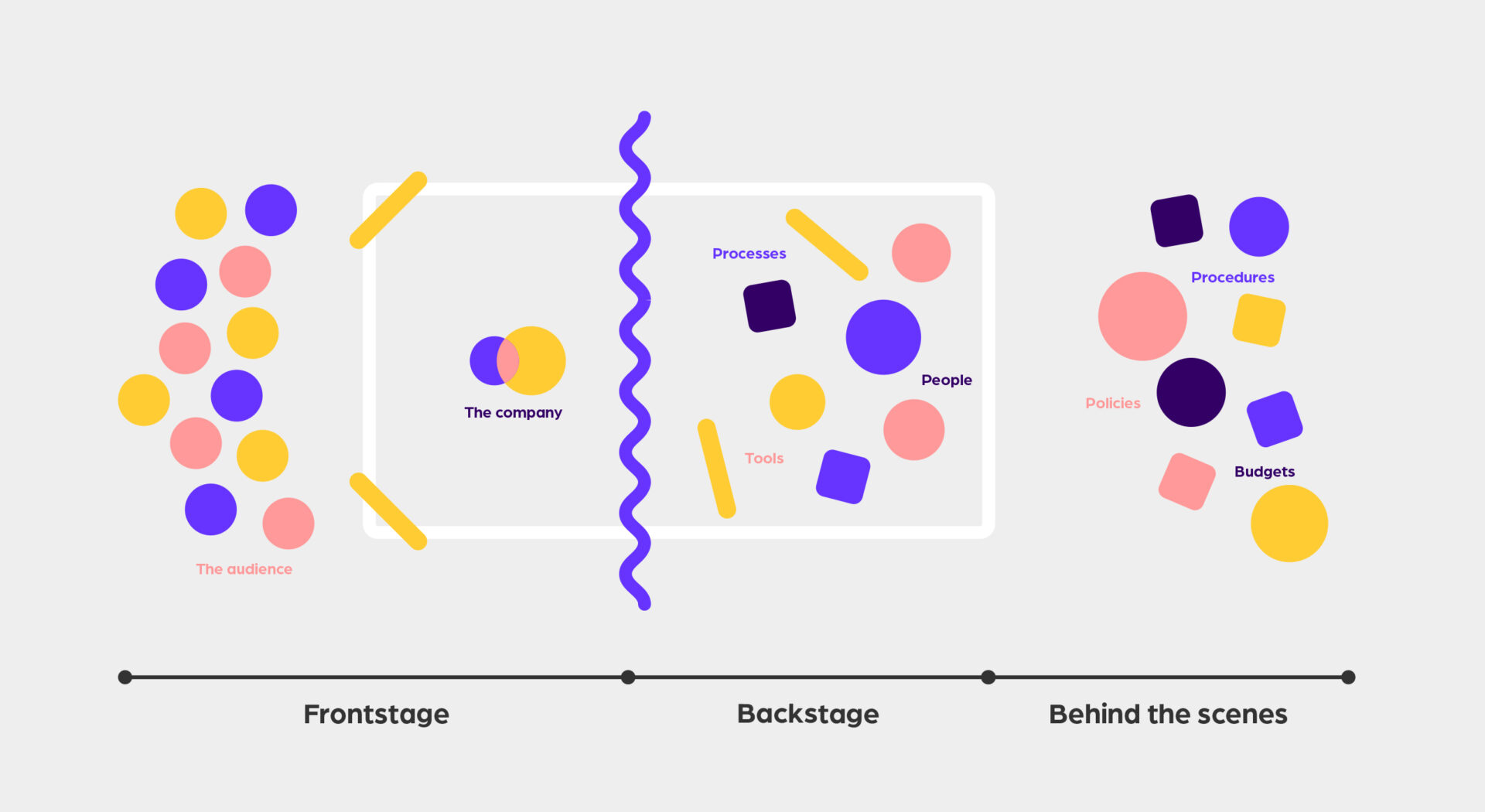 The Focus Academy Case study
The Focus Academy helps people to feel and perform better by guiding their digital behavior through coaching and a rewarding 'people first' software application. We helped them shape and improve their services offer. 
The first steps to designing your offering are to understand your stakeholders and identify your potential customers and their expectations. Quest organized a stakeholder workshop with the TFA team. We then identified and interviewed four target groups of customers. After analyzing their ideas and needs, we organized a series of workshops with TFA to fit these ideas into the right service model and think about what their customer journey should look like.
The selected solutions and the ideal Customer Journey were then validated in a series of solution interviews.
Service design vs. designing a service
The traditional understanding of design—be it a product or a service—focuses mainly on the aesthetics of how a product or service looks or sounds (e.g. the front-end or the usability of a service).
While this is certainly an important component, service design focuses more on figuring out if a service works, meets a need, and creates value. Service design is not just about how a service is experienced, but how that service is delivered. The core of service design is to question and redesign an organization's operations and business model.
Do you need service design or are you designing a service?
We are on a mission to help sustainable businesses scale and accelerate their impact. Interested in building a more sustainable future alongside us? Schedule a call!