Herwin is the Flemish collective of social and circular entrepreneurs. The nonprofit organization represents more than 100 social and circular entrepreneurs and 10,000 employees in Flanders.
Herwin was struggling with two key issues. First of all, they truly do a lot for the social and circular economy in Flanders. And when you do a lot, it's always a big challenge to have your audience understand what you're truly all about and what they can expect from you.
The second issue was that they have a lot of valuable information for their members, but it was hard for those members to find what they were looking for on the old platform.
So our challenge was to
create a new website that allows everyone to truly understands what Herwin is all about
create a new member portal that is extremely intuitive and immediately adds value
Making sure everyone understands what Herwin is all about
To truly understand what we needed to do to make clear what Herwin is all about, we did two things:
Talk to the Herwin management to discuss how they wanted to be perceived (now and in the future).
Talk to their customers to understand the gap between how Herwin wants to be perceived and how they're actually perceived.
As a result, we clearly defined the themes Herwin is working on (inclusive work, food waste, material reuse, …) on the website and we linked those themes to the relevant SDGs.
A transparent approach to advocacy
The members of Herwin also asked for more transparency on Herwin's advocacy work, so now there's a dedicated page where Herwin can highlight all of their amazing advocacy and lobbying work. Some of the info is publicly accessible while some info can only be viewed by its members.
We also modernized the look and feel of the events pages, so they are more appealing and actionable now.
Highlighting positive impact
Last but not least, we also decided to add a brand new Impact page to highlight the impact Herwin is making on society and all the themes the organization is focusing on.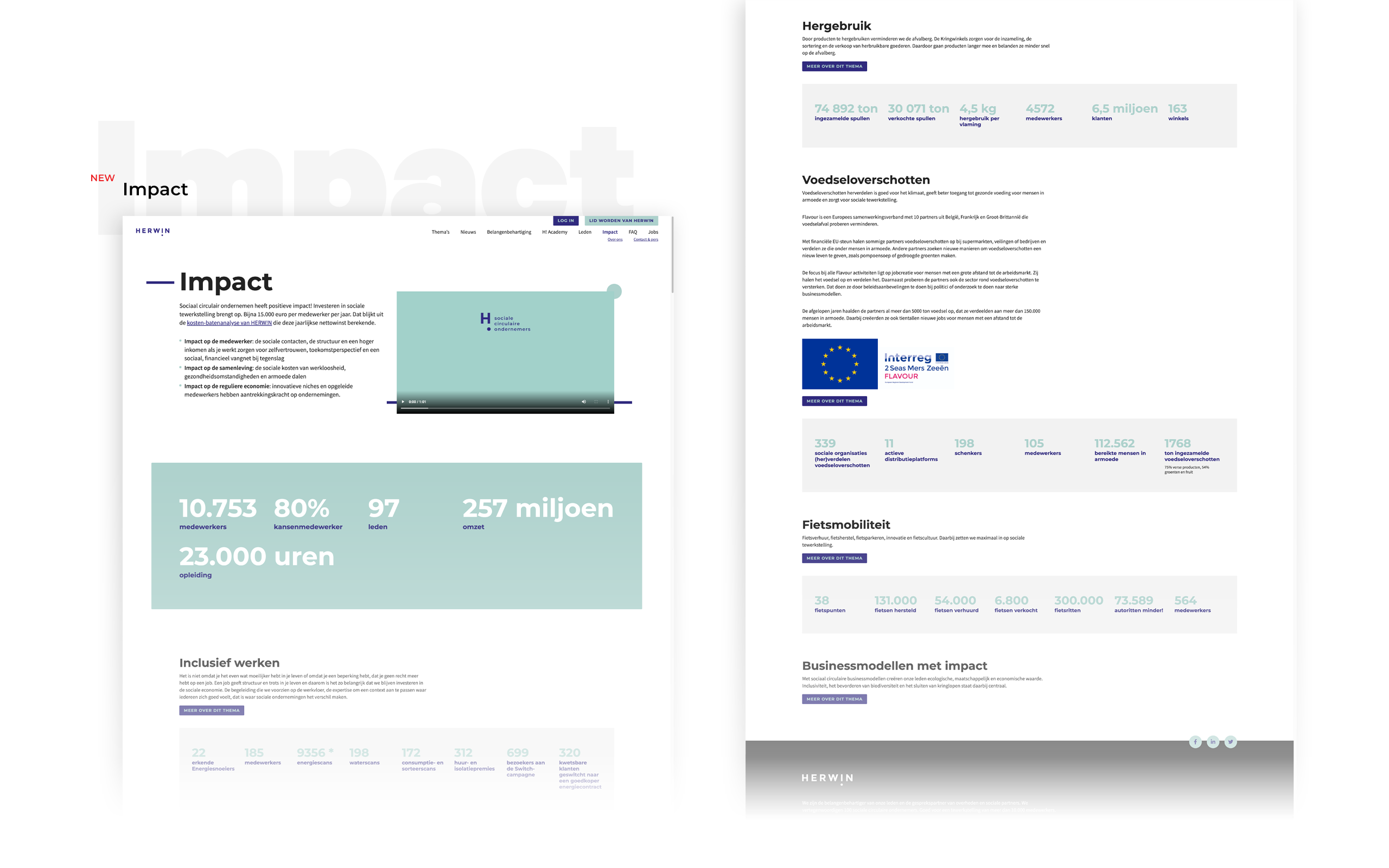 Member portal
To make the membership portal more intuitive, we structured all information in a running FAQ format with a clear and straightforward filter.