As an international production company, the biggest challenge for our client was to get a clear overview of their current positive and negative impacts. Sustainability initiatives were scattered across different locations and project ownership was divided over multiple departments and employees. This made it very challenging for management to align initiatives, communicate about the company's sustainability or improve their impact. So our goals for this project were to:
Create an overview of all current sustainability initiatives
Measure both negative and positive impacts across different locations and product groups
Compare the company score against the industry benchmark
Pinpoint improvement areas in order to match industry trends
Start communicating about the current initiatives
Market & competitor research
To assess the company's impact on employees, governance, suppliers, community and environment, we need an industry benchmark to compare against. We gathered industry best practices, examined existing frameworks and labels, and analyzed the impact strategies, actions and communications of more than 40 competitors. All insights were summarized in an easy-to-use and edit spreadsheet to ensure internal ownership of the information.
In-depth internal interviews
Before a company can increase its positive impact, it is important to know which initiatives are already in place and in which impact areas improvement is necessary. The challenge for a company with multiple branches and production locations across Europe was to gather all relevant information from employees and project managers. To get a complete overview, we interviewed 22 employees from 5 departments in 3 different countries and across 4 different product groups. All insights and a summary of the interview answers on each topic were gathered in a spreadsheet.
Impact visualization
As a final step in the impact scan process, we created a clear and very graphic overview of the company's positive and negative impact. In addition to the visual, the positive, negative and neutral actions of the company were summarized for each topic. This provides the company with a very clear and actionable roadmap to increase their positive impact, choose an impact focus and start communicating about their sustainability.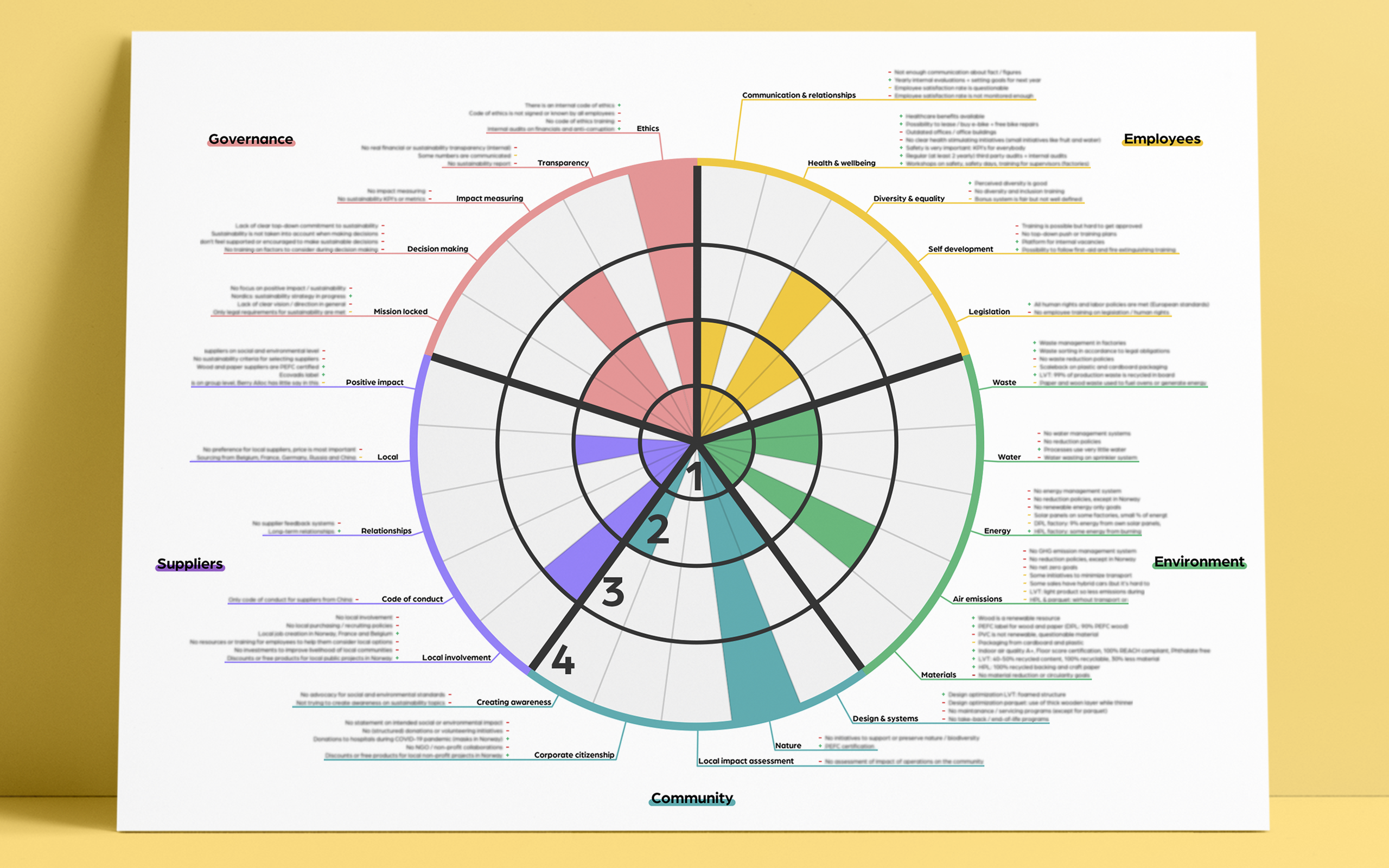 The result
The clear overview of impact initiatives enabled the company to start communicating about their impact. They integrated a sustainability page into their website, briefed internal stakeholders on their ambitions and communicated their positive and negative impact transparently. In addition, the impact scan gave them a framework and clear steps to improve their positive impact. They started to measure and report more inputs and outputs and trained employees on sustainable practices.