Fashion for Good is a platform for sustainable innovation and a global movement of changemakers in the fashion industry. The global initiative brings together the entire apparel industry to innovate and collaborate for good fashion. The foundation even opened the world's very first museum dedicated to sustainable fashion innovation in Amsterdam.
Fashion for Good was looking for a creative UX partner to gradually upgrade their main website and to design and develop a number of dedicated microsites.
A modular setup for cost-effective scalability
The Fashion for Good experience is continually growing and sometimes they need a dedicated website to promote one of their amazing initiatives like the Good Fashion Fund and their Accelerator Programme.
We made sure to focus on 2 things:
a consistent user experience for the visitors of all the Fashion for Good websites
modularity: Fashion for Good needed two new dedicated websites and will need more in the future. Thanks to our modular WordPress setup, we can create a new website with a consistent user experience very cost-effectively. The setup also allows the Fashion for Good team to create and adapt pages themselves.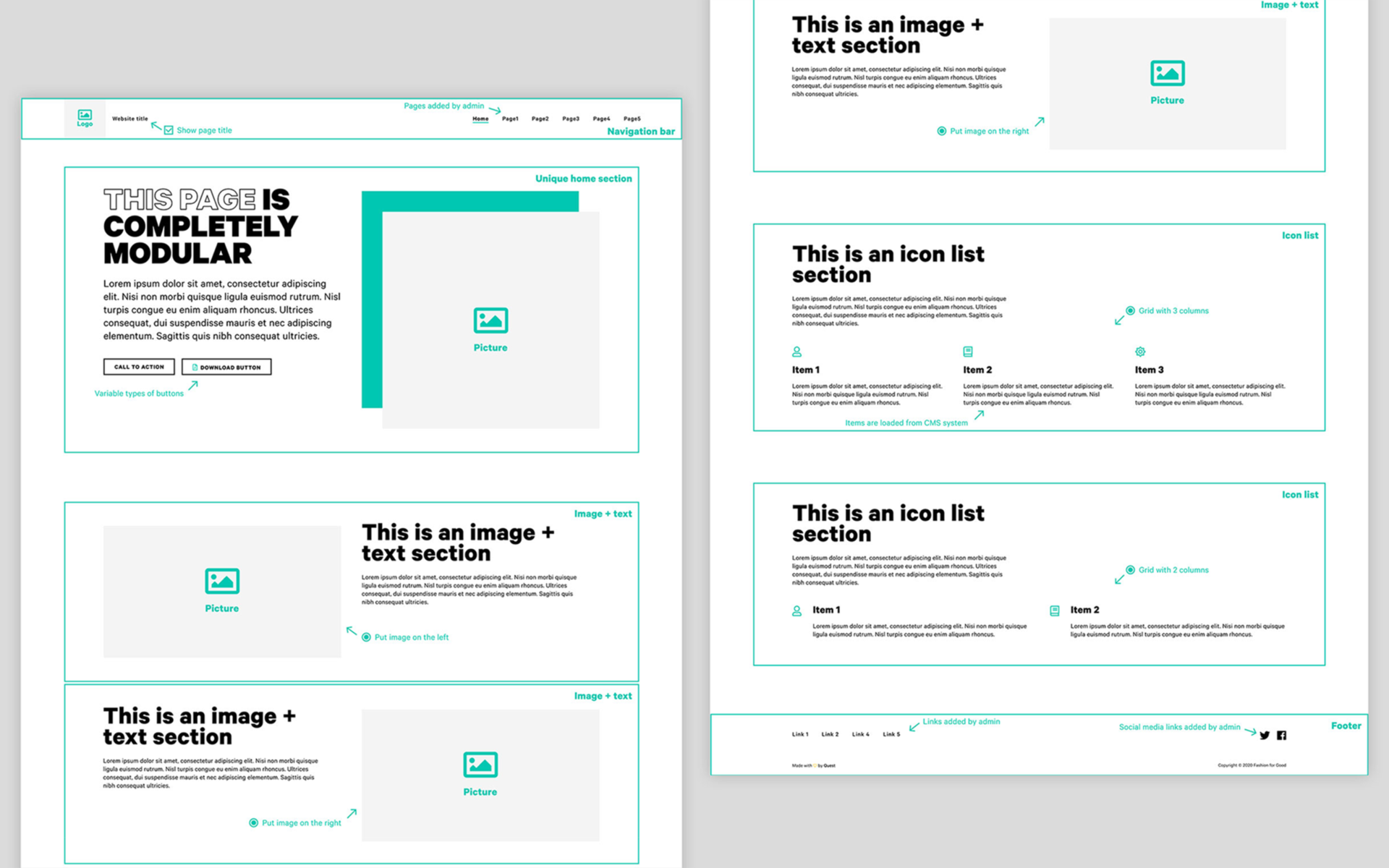 The Fashion for Good accelerator programme
The goal of this programme is to accelerate sustainable innovations in the textile industry. Innovators that solve a problem within the fashion supply chain can get support from a dedicated team of mentors, targeted introductions to industry leaders and access to funding and Fashion for Good's impressive global ecosystem.
Take a look at the dedicated website we made to promote the accelerator programme. Please make sure to have a look at all the amazing innovators Fashion for Good has already helped to take their solution to the next level.
The Good Fashion Fund
The Good Fashion Fund is a first-of-its-kind initiative to create systemic change in the textile & apparel industry by financing the implementation of highly impactful & disruptive production technologies in Asia. By doing so, the Good Fashion Fund helps manufacturers and operators in India, Vietnam and Bangladesh to build a restorative and regenerative apparel supply chain.
Take a look at the dedicated website we made to describe how the Good Fashion Fund works and how it will impact the textile & apparel industry.